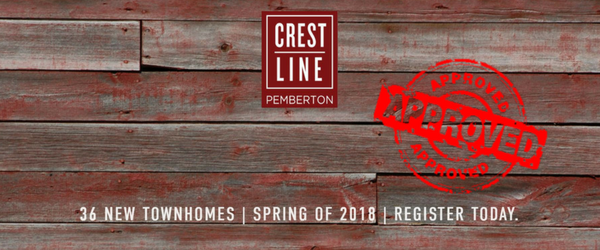 Development Permit approved for The Crestline!
January 18, 2018 | Uncategorised, Stories
We have received Development Permit approval for The Crestline in Pemberton! After months of hard work, we are finally at this exciting stage and are ready to launch sales. These town homes are in high demand and we are expecting to sell out with over 300 people already on a waitlist for our Sales event. As our clients, we want to give you first priority to purchase a unit at our VIP Sales event. Here's what you need to know:
Sales Events
We are holding a Sales Event in the Spring. To register to learn more click here.
Current Market Conditions
This is a fantastic opportunity for rental income in an area with high rental demands. A large reason why we have already received so much interest in The Crestline is due to the lack of housing opportunities in the Pemberton/Whistler/Squamish area. The Crestline features 1 to 3 bedrooms townhomes at very reasonable prices. We are anticipating a sell-out. Download our Rental Pro-Forma here for more info.
About Pemberton
The Village of Pemberton is vibrant, picturesque and infused with a strong sense of community spirit. Just 20-minute drive north of Whistler and 2 hours from Vancouver, it is convenient for those that work in Whistler but is also an excellent place to live with elementary and secondary schools, health and emergency services, grocery stores and more. Pemberton offers world-class activities all year round and is surrounded by three of the most beautiful Provincial Parks in BC. Want to see what else Pemberton has to offer? Check out Tourism Pemberton's page here.
What the local residents love about Pemberton
Bird's eye view of The Crestline property
We will also be offering Limited Partnership opportunities for people interested in investing in the development. If you want to learn more about this investment opportunity, contact me 
here
. Please follow The Crestline's 
Facebook page
 for more real time updates.
Sincerely,
Denise Wong
Communications Director, Alture Properties