FOR IMMEDIATE RELEASE
March 11, 2019 | Uncategorised, In the News, Press Releases
Affordable luxury comes to Chestermere Lake
Skylar Homes to bring 58 new townhome residences to Chestermere
February 28, 2019 – Chestermere, AB – An $11 million townhome project launches today in Chestermere's Lake District. Located at 248 Kinniburgh Blvd., Skylar Homes will provide a much-needed influx of affordable homes to the City of Chestermere.
Only 22 kilometres east of downtown Calgary, Skylar Townhomes in Chestermere offers residents a year-round, luxury cottage lifestyle at an affordable price point. With homes ranging between $289,000 and $369,000, owners can enjoy close proximity to beaches and boating, while enjoying a short commute to Calgary.
"Based on our research, we saw a demand for more affordable housing in the Chestermere area," said Peter Cheung, president of Alture Properties "We set out to build something that millennials and first-time home buyers can afford while benefiting from the lifestyle that Chestermere has to offer."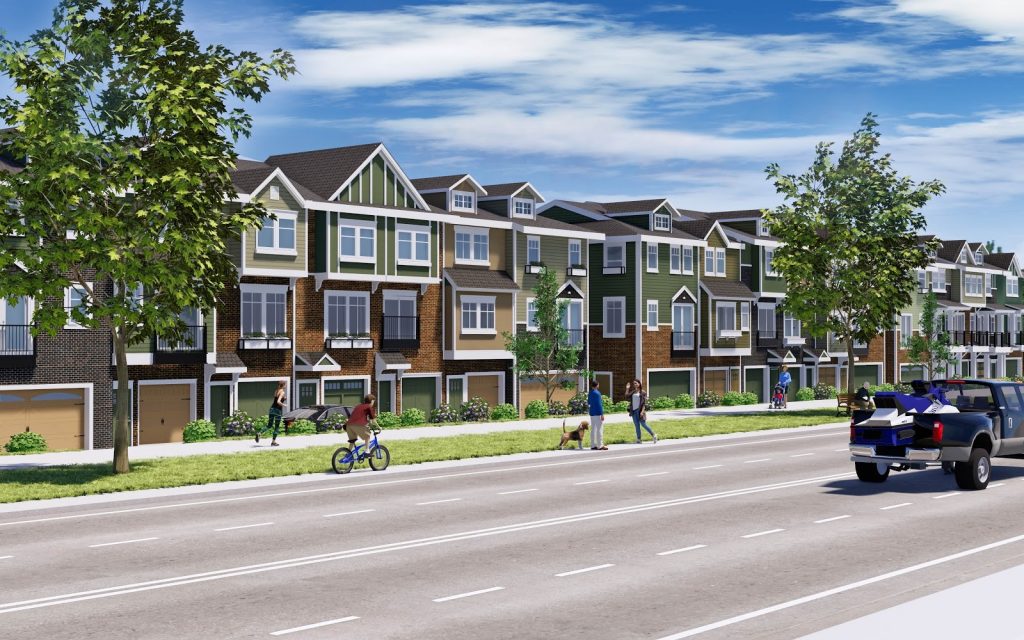 Photo Caption: Artist's rendering of Skylar Homes – Townhomes in Chestermere
Photo Credit: Provided by Skylar Townhomes
Developed by Alture Properties and designed by BCW Architects, Skylar Homes – Townhomes are comprised of three-storey attached row townhomes. They range in size from 1,240 to 1,700 square feet and come in three different layouts with 2.5 bathrooms in both the two-bedroom and three-bedroom options. End units feature a double garage and interior units have a single garage.
Each home features spacious, open floor plans, nine-foot ceilings and sound-dampened construction and materials to minimize sound transfer between units. Kitchens and bathrooms in Skylar Townhomes feature quartz countertops and each home is equipped with stainless steel Whirlpool kitchen appliances and Samsung washer and dryers.
-more-
2018 City of Chestermere census data shows a young city where home ownership is the norm, with 84.7% of its 20,732 residents under the age of 60 and more than 85% of residents owning their homes. 74% of homes in Chestermere are single detached and 16.8% are duplex or townhouses.
-30-
Registration
The Skylar Townhomes show suite and sales centre is located at 248 Kinniburgh Blvd., Chestermere. You may also register online for updates at www.skylarliving.ca or email: info@skylarliving.ca.
Skylar Townhomes – Show Suite & Sales Centre
248 Kinniburgh Boulevard, Chestermere, Alberta
Open: Mon – Thurs 12pm to 6pm/ Sat – Sun 12pm to 5pm
Media Contact:
Bradley Dryer                              Scott Henderson
dHz Media Inc.
                          dHz Media Inc.
t.403.863.0586                            t.403.921.2001
bradley.dryer@dhzmedia.com    scott.henderson@dhzmedia.com
To view the media kit for Skylar Townhomes, please click here
About Skylar Townhomes – Skylar Townhomes aims to provide the best value possible in the best location possible. Interior finishings are highlighted by an open concept design with nine-foot ceilings, luxury vinyl plank flooring, quartz countertops and stainless steel Whirlpool appliances. A full-height  four-by-16-inch glazed tile backsplash adds even more style to the gourmet kitchen. All Skylar Townhomes have their own outdoor space as well as access to the huge central courtyard.
About Alture Properties – Alture Properties recently developed the Midcity project in Calgary, a modern condo building located in the Midnapore Lake community.  Alture Properties is passionate about building desirable homes in unique locations.
About BCW Architects – BCW Architects is a Calgary firm that has won awards for projects such as the Atco Tyrrell Learning Centre addition to the Royal Tyrrell Museum of Palaeontology, Airport Corporate Centre at Calgary International Airport and the Shawnessy Co-op in Calgary. The company's portfolio of residential developments includes Serenity Ridge in Canmore.
About Buss Marketing – Calvin Buss, President of Buss Marketing, has been involved in the Calgary real estate industry for the past 35 years. His expertise in helping clients succeed includes land acquisition, building design, marketing creativity and sales direction. He is joined by Marketing Manager Zee Zebian with more than 15 years of real estate marketing experience.