Lakeside Cultus Lake takes a location that 'has everything'
June 05, 2017 | Stories, In the News
Published on: June 3, 2017 | Last Updated: June 5, 2017 8:26 AM PDT
Jeff Vertes' summers as a child are a golden memory.
He remembers well how his family would set up camp in an RV on the beach at Cultus Lake and spend sunny summer days splashing around in the surprisingly warm water.
What he couldn't have known then was that a few decades later, he would be the owner of condominium home at Cultus Lake, looking forward to the same summer fun with his own children. And it would be within eyeshot of where he spent his own summers as a kid.
"Cultus Lake has everything," said Vertes, who also went as an Abbotsford teenager to stay with friends on the lake. "It's amazing how much nature there is. And the biking, hiking, the beach, the boating. There are so many fun things for you to do.
"I have three kids — two girls, 11 and nine, and a three-year-old boy, and keeping them entertained . . . .," he says, laughing.
For Vertes and for many Lower Mainlanders, Cultus Lake has been a favourite summertime vacation spot for decades. Compared to Vancouver Island or the Okanagan, it is more convenient, particularly with eager kids in the car. For Vancouverites, it is a 90-minute drive to the lake, which was declared part of a provincial park in 1948.
The Vertes family's new summer home will be almost in their back yard, just a 15-minute drive away from their Chilliwack residence.
Lakeside Cultus Lake, a collection of 21 condominium homes, is just inside the boundary of the 2,729-hectare provincial park encircling the 10-kilometre long lake. This makes it a unique offering at Cultus, which also has its share of homes selling for $3 million a short distance away at Lindell Beach.
"Each home has amazing views from a private deck, and they all have a boat slip and two parking stalls," says Ben Hurlbutt, Lakeside's director of marketing and sales.
"The project also has this other feature — a large dock pavilion, which is like nothing else in the area. It is a floating place to go and hang out and socialize on, where you can sit around a fire pit, have dinner with friends or sit on daybeds and just bask in the sun."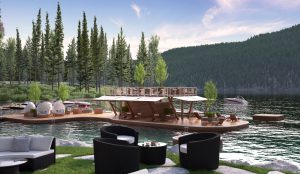 With the lake dropping off quickly right in front of the development, the pavilion is protected from the rock and roll created by swells because the waves don't have an underwater formation to bounce off, he said.
The pavilion also features an outdoor kitchen and several places for chair and lounge grouping. Each condo comes with its own boat slip. Vertes doesn't have a boat right now, but plans to start shopping for one soon.
His moment of bliss would be "driving the boat with the kids behind in the tube, hanging on for their lives and really enjoying it."
The Vertes family bought a three-bedroom-and-den model. All homes have over-height nine-foot ceilings on the main floors with loft units featuring vaulted ceilings with clear tongue and groove wood.
Interior designs come in either light and dark colours. A main level upgrade amenities include a linear gas fireplace with large-format concrete-look tile surround and drywall overhang in the living room. Standard Shaker single-panel interior doors come in white with white baseboard trim. But the package can he upgraded to a flat-panel wood veneer door with vertical grain oak and white trim.
While windows in the living, dining and master bedroom come equipped with manual roller shades, those can be upgraded to the motorized variety.
Engineering wide-plank flooring comes in blond or grey-washed European white oak. Bedrooms and staircases are covered in wool Berber carpeting.
The kitchen is outfitted with Blomberg appliances, including a gas range, 36-inch counter-depth french door refrigerator, hoodfan and microwave and an LG washer and dryer. A large kitchen island is comes with a quartz countertop. There is an option to upgrade to Bosch appliances.
Bathrooms feature a modern floating vanity with mirror and modern wall sconces., with full-length curbless showers stalls in the master ensuites and frameless glass doors and linear shower drain. The remaining bathrooms feature tiled showers with curbs and sliding glass doors. All bathrooms come with automatic light sensors and upgrades include a steam shower in the master ensuite and perimeter tile.
The lake itself offers boating, water skiing, kayaking and canoeing, while the surrounding park has kilometres of hiking trails, fishing and golfing nearby.
There are also seasonal attractions such as corn mazes and pumpkin patches for the kids and a range of dining and entertainment for the adults.
If the Vertes kids need another diversion beyond the lake, the community of 1,000 also has a waterslide park and an amusement park with rides.
Project: Lakeside Cultus Lake
Project Location: 3175 Columbia Valley Highway, Cultus Lake, about 90 minutes from downtown Vancouver, and 15 minutes south of Chilliwack
Project Size/Scope: Twenty-one modern design lakeside wood-frame condominium homes on a concrete podium. Homes range from 1,175 sq. ft. to 1,750 sq. ft. Each home has a private deck with lake view and individual boat slips
Prices: From $780,000 to $1.6 million
Developer: Alture Properties, Burnaby
Architect: Bryce Rositch, RHA Architecture
Interior Design: Debbie Evans Interior Design
Sales contact: Ben Hurlbutt
Sales phone: 855-778-2366
Website: www.lakesidecultuslake.com
Occupancy: Late 2018